I can't walk five feet in Manhattan without being blinded by one of these: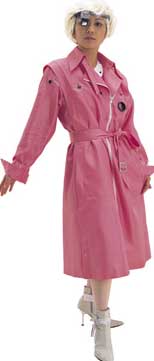 And there are more, more, more of them in odious shades of pink than you can even imagine.
Last week in court I saw an elderly attorney of unknown foreign provenance flanked by two young blonde women in shocking pink trench coats. I couldn't stop staring. I know they are probably smart, competent legal professionals, but all I could think was "Pink Lady and Jeff."
Why, I ask, why??